Classic Assessments Events
IWM Duxford Spring Car and Motorcycle Show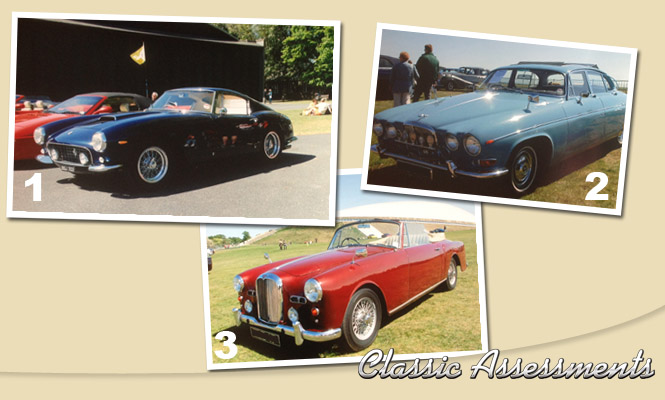 A good turn out of cars, but not many motorcycles.  The weather was great with clear blue sky, just right for the vintage aircraft flying over.
A good display of Ferraris would have been more interesting if the majority wasn't from the 1990's!  The best and most interesting for me was a lovely dark blue 250GT Berlinetta with the short wheel base Pininfarina body.  Lovely lines.
There were a lot of late 90's and even younger models from various makers and manufacturers, which, if I had paid to get in. would have disappointed me slightly.
However, the organisers are looking to limit the age to pre 1985 for exhibitors ( hopefully ) in the future.
On the 'local' Jaguar Enthusiasts Club stand was a nice Jaguar Mk X.  The largest  or widest production vehicle produced in Britain, survivors are rare and examples are seldom seen.
The vehicle of the event for me was a very nice Alvis TD21 Drophead from the late 50's in dark red, with magnolia interior.  Well engineered, superb 3 Litre 6 cylinder engine, traditionally built and well mannered on the road.  Classic, Classy and British!
Duxford Museum is such a good place to visit too.
Pic. 1.   Ferrari 250GT Berlinetta.
Pic. 2.   Rare Jaguar Mk X.
Pic. 3.   Alvis TD21 Drophead.

< Back to Events Page
We provide independent vehicle inspections including Pre-Purchase Inspections, Vehicle Valuations, Modified Vehicle and Engineers Reports, Accident Assessments and Restoration Estimation and Project Management Services.

For expert advice, experience and dedication to Historic Vehicles contact Classic Assessments on 07968 167331 or by email at brian.page@classicassessments.com