Classic Assessments Events
Colne Valley Classic Car Day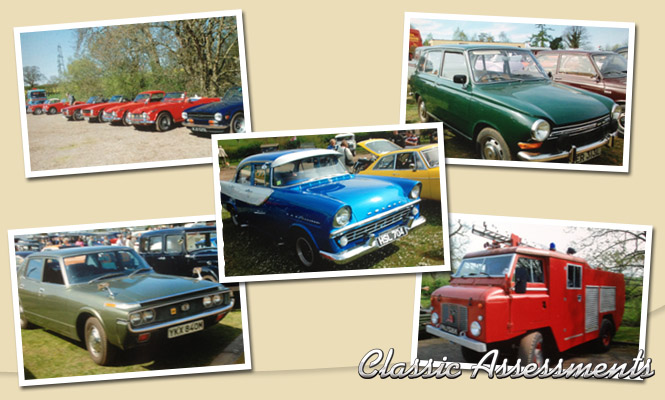 Nice little event, which seems to attract some interesting vehicles.  The event has the added attraction of a ride on a train or two, some 'real' with steam power ! 
On the down side, the event is quite early in the 'season' so watch for April showers and there are not a lot of covered areas to hide in from the rain.
This years event saw over 150 vehicles, with a good variety of pre and post war cars and a few commercials.
Highlights included a dozen or so Triumph TR's from the Abbot and Stour TR Register Group, including TR3, 4A and 6 examples.
It seems to me that later 'classics' from the 70's and 80's are now acceptable at shows and I'm glad to see someone is trying to keep these vehicles on the road.  The 1974 Toyota Crown Custom and the 1973 Daf 55 Estate are just two such examples.
Commercially, the Forward Control Land Rover Fire Appliance is a real rarity and the Australian Holden H Series is a long way from home here in Essex.

< Back to Events Page
We provide independent vehicle inspections including Pre-Purchase Inspections, Vehicle Valuations, Modified Vehicle and Engineers Reports, Accident Assessments and Restoration Estimation and Project Management Services.

For expert advice, experience and dedication to Historic Vehicles contact Classic Assessments on 07968 167331 or by email at brian.page@classicassessments.com