Classic Assessments Events
Austin Healey Club / Daimler SP250 Suffolk Car Run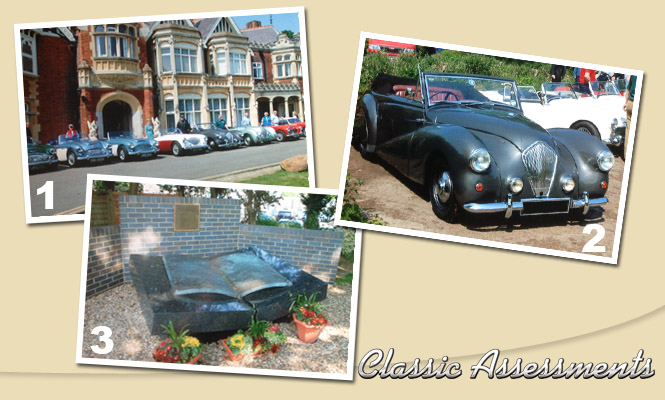 Great cars, good company, sunny weather and a full stomach all in beautiful Suffolk. 
What more could one ask for?
Driving through the lovel Suffolk countryside and villages brought back some nice memories of when I lived in the county and owned a very tidy Austin Healey 100/6 a few years ago.
Luckily I have a few good friends who are willing to let me 'ride shotgun' on such outings.
Two of my all time favourite sports cars - Austin Healeys, especially 'big Healeys' and the incredible V8 engined, fibreglass bodied Daimler SP250 'Dart'.
Great day - a must in future event calendars.
Pic. 1.   The scene at Cavendish village.
Pic. 2.   83 EXB  SP250 - An old friend, inspected by Classic Assessments in 1995 and 2011.

< Back to Events Page
We provide independent vehicle inspections including Pre-Purchase Inspections, Vehicle Valuations, Modified Vehicle and Engineers Reports, Accident Assessments and Restoration Estimation and Project Management Services.

For expert advice, experience and dedication to Historic Vehicles contact Classic Assessments on 07968 167331 or by email at brian.page@classicassessments.com