Classic Assessments Events
Austin Healey Club visit to Bletchley Park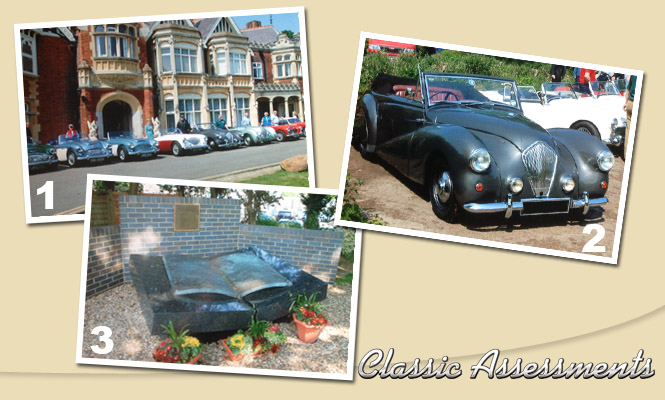 Classic Car runs are always enjoyable for me.  I really much prefer to drive a classic  than just view them in a field, statically displayed.
Our trip to Bletchley Park, near Milton Keynes, was good, especially as the sun was shining and my friend's Austin Healey 3000 top was off.  I just love the burble of a BMC C type engine!
Bletchley Park, the home of the 'modern age' in many ways as the computer was first used here in WW II.  Without the skill and dedication of the code breakers at Bletchley, I very much doubt if Britain could have beaten the Nazi's and we would have been talking in German and Goose Stepping in most of the world now!
The visit was most interesting, made even more enjoyable by being there with a great selection of Austin Healeys and Healeys.  Great.
Pic. 1.   Healeys parked outside Bletchley Park Manor, home of the code breakers in WWII
Pic. 2.   A nicely presented Healey Abbott DHC.
Pic. 3.   The Polish Memorial at Bletchley.
We provide independent vehicle inspections including Pre-Purchase Inspections, Vehicle Valuations, Modified Vehicle and Engineers Reports, Accident Assessments and Restoration Estimation and Project Management Services.

For expert advice, experience and dedication to Historic Vehicles contact Classic Assessments on 07968 167331 or by email at brian.page@classicassessments.com